If you're already on the "how do I cut back on coffee" train or are looking for a healthier option, mushroom coffee may just be thing for you.
So why is it a healthier morning ritual?
1) Get the plus sides of coffee without the downsides
Medicinal mushrooms boast an ungodly amount of antioxidants. Decades of scientific research show how antioxidants help protect you from all kinds of harmful problems including premature aging.
2) Boosts immunity and wards off infections and harmful bacteria
Medicinal mushrooms can help stimulate the immune system in such a way that they strengthen immune response and have been found to exert anti-tumor and anti-cancer activity against harmful cells in the body.
3) Improves focus and is beneficial for brain health
Most mushroom coffee has less caffeine than coffee but focuses your brain in a different, better way. Some medicinal mushrooms have been found to repair and regenerate neurons and improve cognitive function.
4) Increases energy levels without the jitters
Caffeine can improve focus, but in excess can cause jitters and elevated anxiety. Thus, adding in stress-regulating adaptogenic mushrooms mitigates the energy spikes and leaves a jitter-free no crash feeling of awesome steady focus and energy.
5) Keeps digestion calm as a low-acidity coffee alternative
Special compounds in medicinal mushrooms act as prebiotics in the digestive system and directly help improve digestive health. They patrol the gut and help keep the gut microbiome free of bad bacteria.
6) Improves organ health because it's rich in antioxidants and essential vitamins
Medicinal mushrooms, especially Reishi, contain vital nutrients that can prevent liver toxicity and lower glucose levels, directly effecting heart health. Medicinal mushrooms are also antivirals, antimicrobials, and contain antioxidants that pump up the body's natural defenses to fight disease.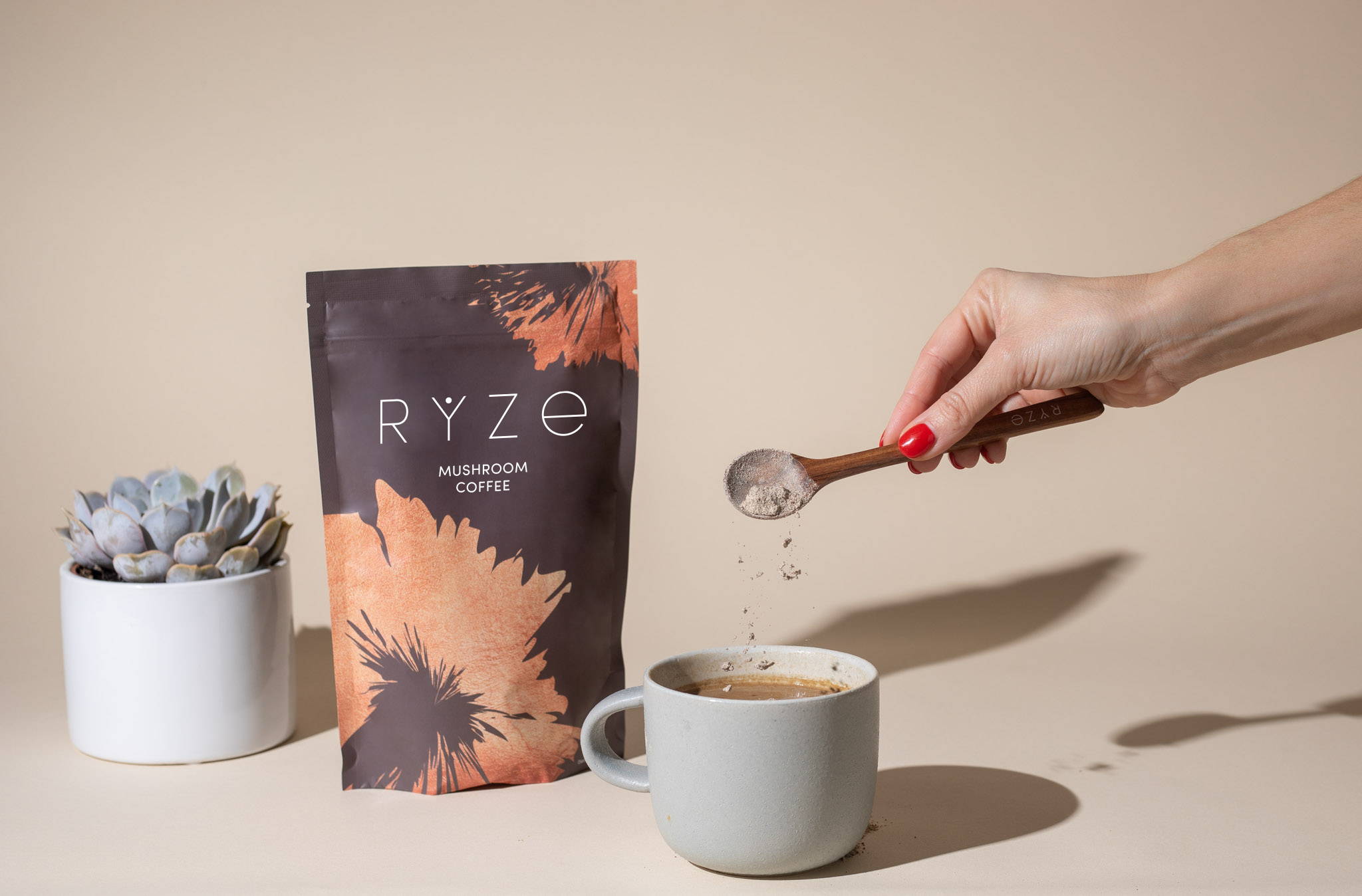 Our mission behind RYZE is to heal the body and mind one cup at a time.
For something many of us drink daily, coffee lacks a lot of key nutrients and health benefits. That's why it was important for us to craft a blend that delivered maximum mental and physical health benefits while still allowing folks to enjoy their morning cup of coffee. For this, we found a rich artisanal coffee from the Araku valley in India, grown by independent farmers. We infused it with 6 organic medicinal mushrooms, and a hint of MCT oil (an all-natural derivative of coconut oil) for creamy smooth finish. Each cup includes a whopping 2000mg of mushrooms for maximum health benefits - more than any other brand you'll find on the market!
And more than just function - mouth feel is just as important. RYZE is completely soluble so it dissolves in water instantly and leaves little to no residue. This high solubility makes our mushroom coffee extremely easy to prepare: in 8-12 oz. of hot water, add a scoop of our mushroom coffee powder and stir. That's it. Ready to drink in minutes.
20+ year fitness instructor and self proclaimed coffee snob Lauren Brooks loves RYZE.
She admits she was hesitant at first because she doesn't like anything "messing up that beautiful flavor of coffee. And guess what? This enhanced it", Lauren said. "I have no jitters, I sleep better than I ever have, and I'm hooked. I love this. It feels amazing. I feel so focused. That's a huge key for me," through long days teaching and training.
At RYZE, we've taken a 'healthier-is-better' approach to our coffee.
Go ahead and check out RYZE Mushroom Coffee, sold exclusively on our website.
With less than ½ the caffeine of regular coffee and stacked with 6 organic functional mushrooms and MCT for fat burn and energy fuel, RYZE mushroom coffee is changing the coffee game. Packed with tons of antioxidants and immune-boosting properties without the jitters or caffeine crash of normal coffee, a cup of RYZE is a one-stop-shop for a healthy body and mind, for as little as $1 a serving.
Try our game-changing mushroom coffee today. You'll fall in love too!
Every purchase of RYZE goes to teaching children mindfulness in schools.
We care about making something that's more than just a product. We care about making something that has an impact. We're proud to be able to donate 1% of our sales to Mindfulness First, a non-profit organization that teaches kids trauma-informed mindfulness techniques to help them manage stress and navigate life's challenges.