Change Your Habits, Change Yourself: RYZE Mushroom Coffee Got Me Back on My Feet!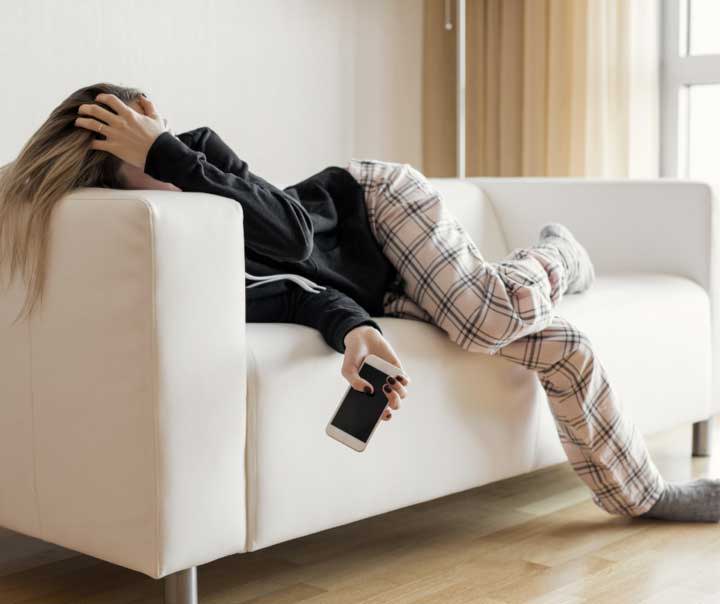 I wouldn't be myself without my morning cup of coffee - at least that's what I thought.
I was convinced that I simply couldn't function without it!
I used to hit Starbucks on my way to work every morning, but when the lockdown hit, I had to pivot. I started making coffee at home, even going so far as to grind my own beans…
but I knew something was missing.
I liked the ritual of making my own coffee, but after a few months of doing it myself, I realized that those daily cups of coffee were doing more harm than good.
That morning burst of energy came at the cost of an afternoon slump.
I found myself running to the bathroom right when I was meant to be on a Zoom meeting.
I was too jittery for my quarantine yoga.
…It was the culprit behind the unpredictable stomach aches that I had convinced myself was a part of life!
I tried to quit cold turkey, but the withdrawals were unbearable. I knew I had to make a change, but my body was resisting!
That's what got me started on researching coffee substitutes.
I tried powdered supplements, but couldn't find one that wasn't grainy.
I tried to find a tea I could stomach, but I guess I'm too used to coffee.
That's when my sister sent me a Instagram video of someone talking about RYZE Mushroom Coffee.
When I first heard those words, I thought I would be drinking some gross mushroom smoothie, but that turned out to be far from the truth.
These aren't the typical mushrooms you find at the grocery store! These are special adaptogenic mushrooms selected for their special properties:
Lion's Mane – Eliminates brain fog, boosting mental clarity and focus

Reishi – Relieves anxiety and supports healthy, restful sleep

Shiitake – Anti-inflammatory and keeps your immune system strong

Cordyceps – Improves stamina and helps you recover from exercise

King Trumpet – Rich in amino acids and antioxidants that your body needs

Turkey Tail – Guardian of the gut
Now, I'm more glad than ever that I gave RYZE Mushroom Coffee a chance!
RYZE is a one-of-a-kind coffee that contains a blend of six functional mushrooms, MCT oil, and zero added sugar to help you focus, calm your mind and fuel your motivation.
On top of being 100% organic and non-GMO, RYZE also has a creamy delicious taste that's so good you'd think it was more of a treat than a healthy drink.
Each of the 6 different types of organic mushrooms are sustainably grown and sourced right here in the USA so you know you're getting the best quality.
As the #1 selling mushroom coffee in the world, RYZE has set the standard for quality. While many other mushroom products cut corners by using starch and grains as fillers, RYZE uses only full-spectrum mushrooms.
This means you're getting the best part of the mushrooms that are chock-full of benefits, without any of the junk.
It's one of the many reasons why RYZE has +45,000 5-star reviews of people claiming more energy, more focus, a healthier gut and a better quality of life.
And RYZE is even easier than making a cup of coffee - it literally takes me only 30 seconds to make.
All you have to do is mix 1 scoop of RYZE with hot water, add in your favorite creamer and flavoring and enjoy each smooth, delicious sip. Its neutral flavor is so good, you could drink it straight! That flavor also pairs perfectly with whatever sweetener or creamer you normally put in your coffee.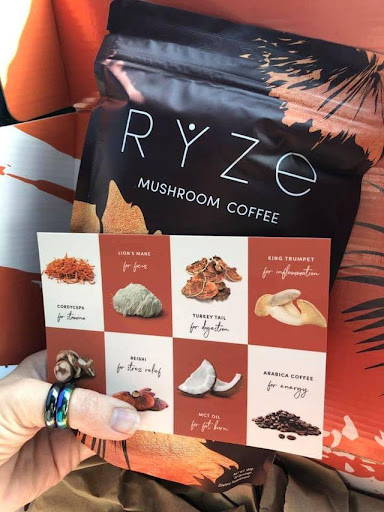 The secret behind why RYZE is so powerful is in the powerful blend of six adaptogenic mushrooms, hand-picked for their specific benefits. As the only mushroom coffee on the market to use this exact blend, you won't find what you're looking for anywhere else.
Lion's Mane helps gives you calm, laser-sharp focus allowing you to become the most productive and motivated version of yourself.
Cordyceps increases your body's production of ATP so that you can enjoy an almost limitless supply of energy, better stamina and a noticeable reduction in fatigue.
Reishi is nicknamed the "mushroom of immortality" and has been used in eastern medicine for thousands of years, because it's a powerful ally that promotes deep sleep while also supporting your immune system.
Turkey Tail is a potent antimicrobial that helps protect your gut, promote healthy digestion and acts as a powerful defense against fatigue.
Shiitake is better known for its delicious taste as a gourmet mushroom but it also supports cardiovascular health and is another potent immunity booster.
King Trumpet is a rich source of antioxidants and niacin which helps strengthen memory, supports brain function and even has cardiovascular benefits.
Just imagine how incredible it will feel when stress just rolls right off your back and you're focused, calm and more productive than you've ever been before. That's what it's like when you drink RYZE everyday.
What Are Other People Saying About RYZE?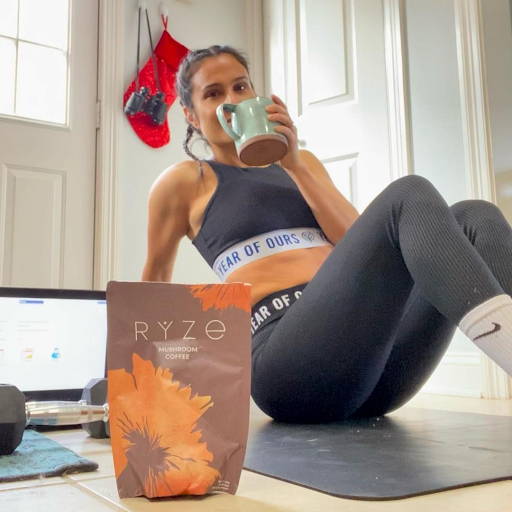 It's not just me who feels this way. Over 300,000 people drink RYZE every morning and they absolutely love it. Just look at some of the reviews these people are leaving.
"I am a totally different person now that I started taking Ryze. I actually take it before the gym as a pre workout and I absolutely love it. I have ADHD. And has helped a lot with focusing and my anxiety. I recommend it." - Vivian Celedon
"I actually love this coffee! I feel completely alert, focused and energetic after drinking it! I've definitely noticed I am more focused and work harder when I'm at the gym after drinking! I love it! Will continue to buy!" - Natalie Fox
"I've been drinking it for 6 days. I feel more focused & energized both mentally & physically. I've already recommended this product to all my clients at my gym in Kansas City." - TJ Bowers
"It's so hard to explain how I am feeling after drinking the Mushroom Coffee for just a few days. From not having a lot of motivation, to cleaning out my closet and having tons of energy. Ryze is the only thing that has changed in my life and so I will give it all of the credit!" - Keri Roedel
"Since I started drinking Ryze, I've had much more energy and motivation to get things done. I used to be a big coffee drinker, but had to slow down since it was hurting my stomach. This has been a wonderful replacement, and I love the taste!" - Camilla Fabbro
Conclusion: Does RYZE Live Up To The Hype?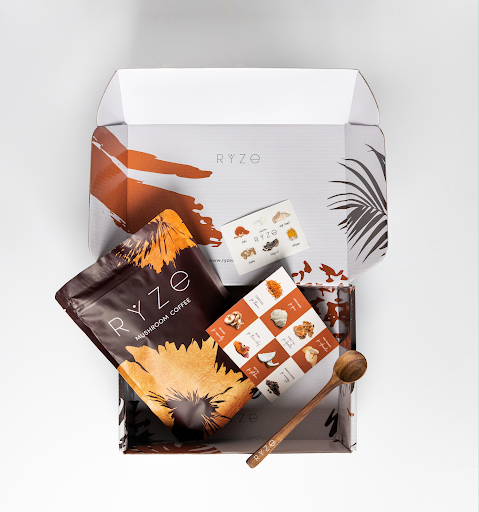 100% yes! As you know, your health is everything. Thanks to RYZE I now have the energy and motivation I needed in order to take care of my life. Not only am I hitting the gym almost every day now but I'm also leaner, calmer and happier than I've ever been before.
My only complaint about RYZE is I wish I'd found it sooner.
Whether you're feeling unmotivated, having a difficult time focusing, or want to make your health a bigger priority than it already is, then believe me. Give RYZE a try because it could be the change your body needs. 10 out of 10, would recommend!
Get 15% off + free handmade acacia spoon limited time only!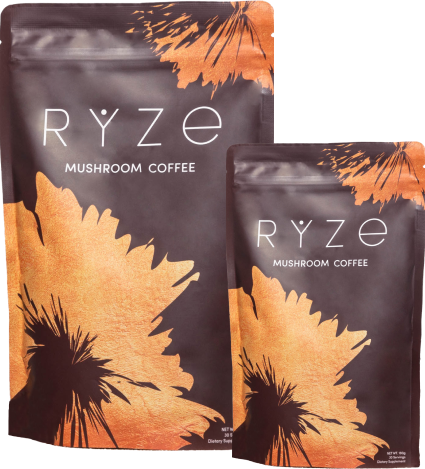 Lovely Earthy & Creamy Taste

Mushrooms Grown In California
Try it today with a 30-Day Money Back Guarantee!
Sell-Out Risk: High | FREE shipping