RYZE SUPERFOODS
PRIVACY POLICY
Last Updated: 08-31-2023
Our Commitment to You

Ryze Superfoods LLC ("Ryze") and its subsidiaries are committed to safeguarding the use of your personal information that we have. Ryze (referred to as "we", "our", and "us" throughout this notice) makes reasonable efforts to protect the security and confidentiality of the personal information we have and to ensure that such information is used for proper business purposes in connection with the management or servicing of your account. Our relationship with you is our most important asset. We understand that you have entrusted us with your private information, and we do everything we can to maintain that trust. Details of our approach to privacy and how your personal information is collected and used are set forth in this privacy policy.
When we refer to "personal data" or "personal information" in this notice, we mean any information, data, or data element, whether in electronic or other form, that, alone or in combination with other elements, can be used to distinguish, trace, or discover your identity. Certain data privacy laws include specific elements or defined terms for what they consider to be personal data. Where such data privacy laws apply to our processing of your personal data, then the terms "personal data" and "personal information" includes the specific elements and defined terms required by such laws.
We reserve the right to make changes to this privacy policy ("Privacy Policy") at any time and for any reason. Any changes will be reflected in a revised policy posted on the website www.ryzesuperfoods.com ("Website", "Site") and we will alert you that there has been a change by updating the "Revised" date displayed on the Privacy Policy. If Ryze determines that such changes materially affect your privacy rights, we will provide additional notice to you.
Collecting Your Information. We may collect information about you in a variety of ways but generally speaking it is done either through (1) your purchase of our product, (2) registering an account with us or (3) you visiting our website. The types of information we may collect include, but are not limited to:
Information You Provide To Us. This is personal information you choose to provide in connection with completing an online purchase or creating an account such as your name, phone number, address, email, or other activities in which you participate on the Site or services.
Information We Collect About You. Information our servers automatically collect when you visit, use, or browse the Site, such as your IP address, your operating system, browser version, the address of a referring website, the pages you visit on the Site, the dates and times you visit the Site, device and usage information, such as language preferences, referring URLs, country, location, information about how and when you use our services and other technical information. If you access the Site from a mobile device, information about the type of mobile device you use.
Additional Information. Ryze does not collect any sensitive personal data on its users.
Using Your Information. Over the past 12 months, the information we have collected from you and the information you have provided to us has been used for the following purposes: to help increase the efficiency and operation of the Site; to deliver and improve our products and services; to manage our business; to monitor and analyze usage and trends to improve the Site and the user experience; to send you confirmations, updates, alerts, administrative messages, and otherwise facilitate your use of the Site; to request feedback and contact you about your use of the Site; to respond to your emails; compile statistical information and analyses, which we may use internally and/or provide to third parties; to support our customers and their interactions with you through our Services; to market our services to you that we believe may be of interest to you; and to deliver information to you that you request or that we think may be of interest to you, such as articles, news, or information about various promotions.
Sharing Your Information. We may share your information with third parties that perform services for or on our behalf for business purposes that include: (A) the performance of analytics on website and/or web form engagement, (B) when it is shared as part of a transfer of assets, (C) when we market promotions to you, (D) for security and fraud purposes, and (E) when we are required by law to share it.
Analytics. We may allow selected service providers or processors, such as Google Analytics to use tracking technology on the Site, which will enable them to collect information about how you use the Site over time. This information may be used to, among other things, analyze and track data, determine the popularity of certain content, and better understand your online activity.
Transfer of Assets. If we reorganize or otherwise transfer some or all of the Site or our assets to another organization (such as in the course of a merger, dissolution, or liquidation), your information may be shared with the transferee; however, we will ask the transferee to honor commitments we made in this Privacy Policy.
Targeted Advertising. Ryze does not sell your data in exchange for monetary consideration. In order to support tailored advertisements, offers, or content that you may find interesting when you browse the internet, Ryze may share the personal information that you provide to us or that we collect about you with our trusted third party partners that support online advertising, data co-operatives, mobile advertising, data analytics, social media engagement, data brokers advertising networks or any other activity that may be considered cross-behavioral advertising. This transfer could be defined as a sale, sharing for cross-context behavioral advertising or targeted advertising. In the past 12-months, we have used both the information we have collected about you and the information you have provided to us for the purposes described herein. You can may opt-out of this at any time by going to the following page: XXX
Security and Fraud. We allow third parties to receive personal information from our users to provide both security and fraud protection to Ryze.
Required By Law. We may share your information as permitted or required by any applicable law in response to a subpoena or other legal process or as we deem necessary to investigate or remedy any actual or potential violation of our policies or to protect the rights, property, and safety of the Ryze or others, as we deem appropriate.
How We Use Cookies. The Site may use cookies, web beacons, and other tracking technology, depending on the features offered. Tracking technology is useful for gathering information such as browser type and operating system, tracking the number of visitors to the Site, and understanding how visitors use the Site. Cookies can also help us customize the Site and improve your experience.
If you previously provided personally identifiable information to us, a unique identifier in the cookie may tie the information collected via the cookie to such information. Do Not Track ("DNT") is a privacy preference that users can set to have their Internet browser automatically send a signal to our online and mobile resources to request we not track browsing activity across different sites. There is, however, currently no universal standard for sending and receiving DNT signals. As such, we cannot promise that we respond to all DNT signals, but we do recognize and respond to them when required by applicable privacy laws, such as when HTTP header fields or Java objects are used. Most web browsers are set to accept cookies by default. You can usually choose to set your browser to disable or reject cookies. Be aware that disabling or rejecting cookies could affect the availability and functionality of the Site or certain portions of the Site. Also, please note that we may still use information we've collected from cookies prior to your disabling them; however, we will not collect any further information from the disabled cookies. We use cookies for the following purposes:
Necessary for Performance. These cookies are utilized to operate our website and to recognize and avert potential security threats.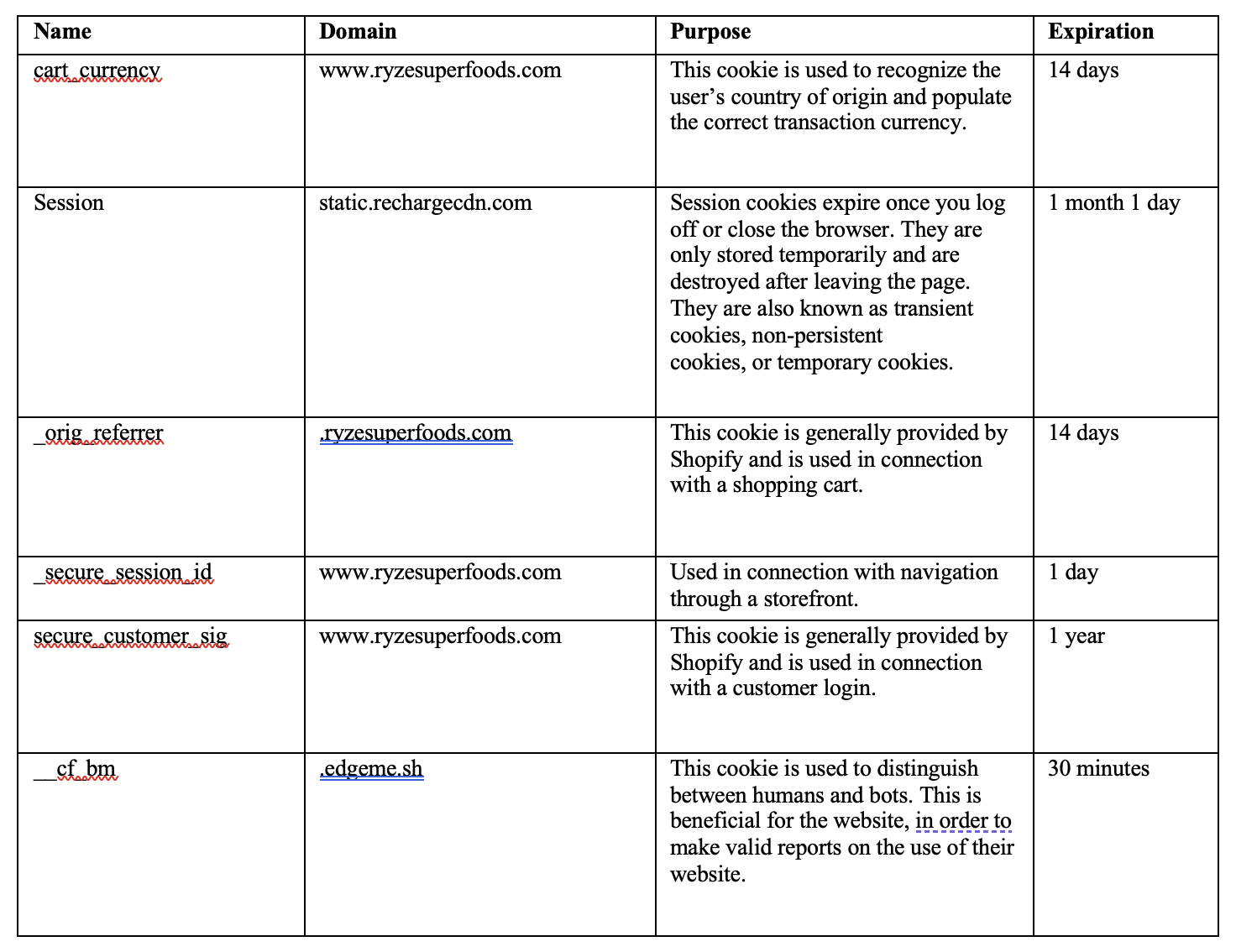 Performance & Analytics. These cookies are utilized to gather data regarding your website usage, track website performance, and enhance our website's performance, services, as well as your overall experience.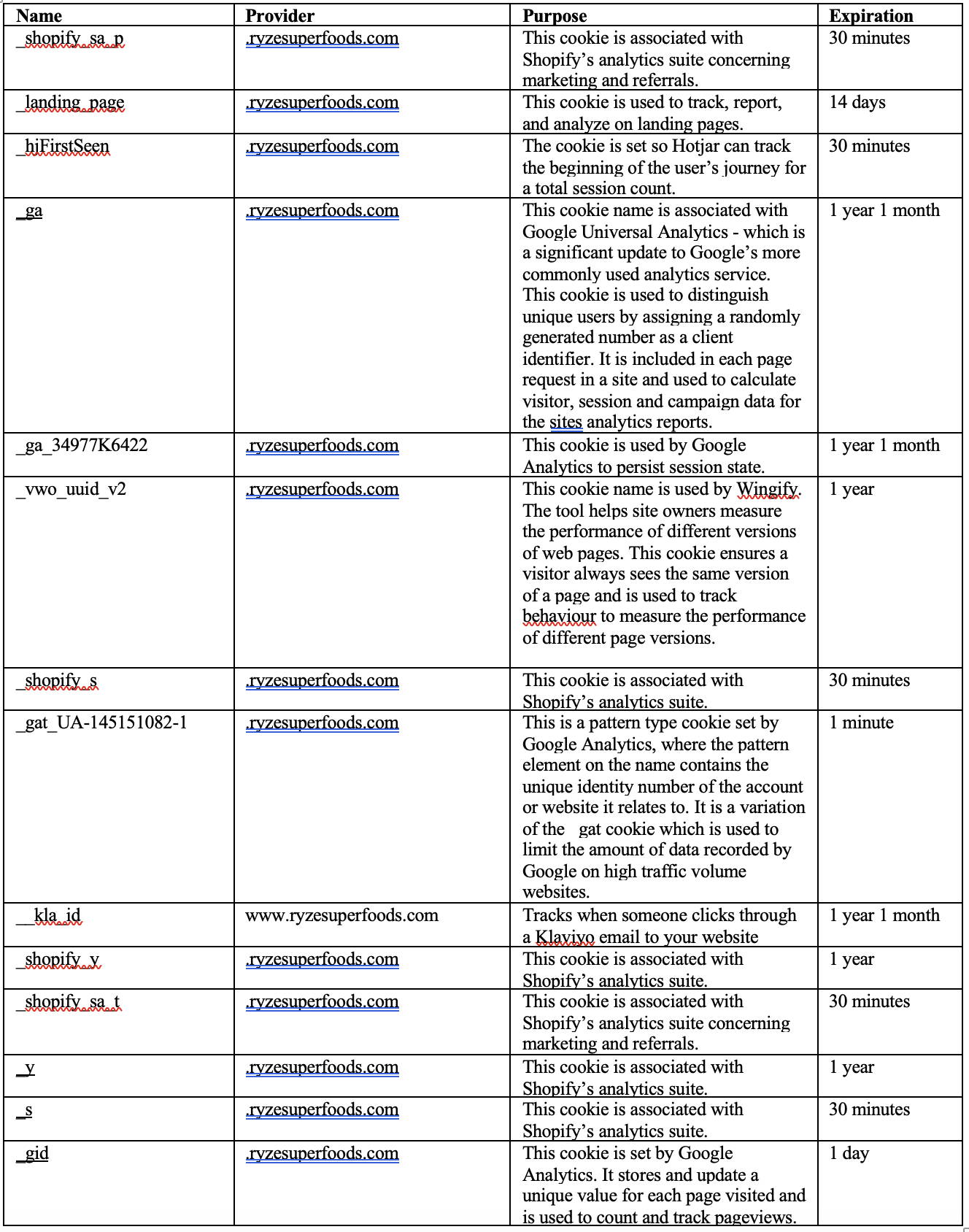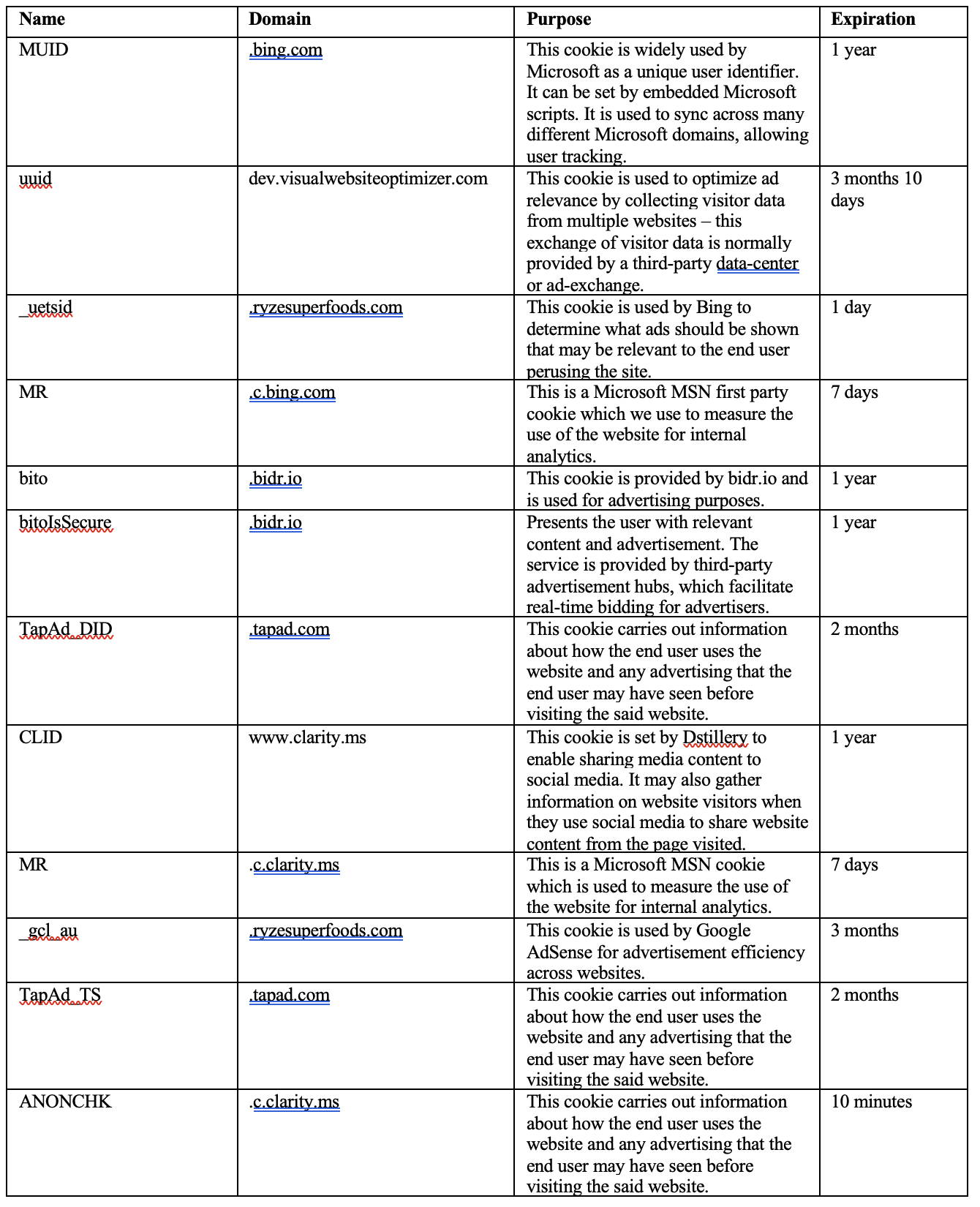 Security of Your Information. While we take reasonable steps to protect any personally identifiable information you choose to provide via the Site from unauthorized access, please be aware that, despite our efforts, no security measures are perfect or impenetrable, and no method of data transmission can be guaranteed against any interception or other type of misuse. Any information disclosed online can potentially be intercepted and used by unauthorized parties, so please keep this in mind when disclosing any personal or personally identifiable information via the Site. To help ensure security via the Internet, we recommend you keep your browser up to date with automatic security updates enabled.
Policy for Children. We do not use the Site to solicit information from or market to children under the age of 18. By using the Site, you represent that you are at least 18 years of age. We encourage parents and legal guardians to monitor their children's internet usage and to instruct their children never to provide personal information through the Site or any other website without parental consent. If you believe a child has provided personal information to us via the Site, please contact us and we will use reasonable efforts to locate and delete the information.
Links to Other Websites and Third Party Practices. The Site may contain links to third party websites. It is our intent to provide links only to other quality websites. However, we have no control over these linked websites or, for that matter, any third parties. Any information collected by websites, other than the Site, is not covered by this Privacy Policy. We are not responsible for the content or privacy and security practices and policies of any third parties, including other websites that may be linked to or from the Site. We encourage you to read the provisions of privacy policies on other websites before providing them with your personal information.
Submitting Information From Outside The United States. We control and operate the online and mobile resources from within the United States of America (the "U.S."). Information collected through the Site may be stored and processed in the United States or any other country in which our vendors or we maintain facilities. Although we do not actively block or monitor visitors from other countries, the Site is directed only at visitors from the U.S. As such, this Privacy Policy is consistent with U.S. law and practice and is not adapted to other laws (including European data security and privacy laws). Ryze will apply the applicable laws of the U.S., including as embodied in this Privacy Policy in place of data protections under your home country's law. That is, you freely and unambiguously acknowledge that this Privacy Policy, not your home country's laws, controls how we will collect, store, process, and transfer your personal information. Similarly, the English language version of this Privacy Policy is the controlling version regardless of any translation you may attempt.
Exercise Your Privacy Rights. Ryze takes privacy seriously. Where applicable, data subjects have certain rights which they can request for Ryze to fulfill. These requests can be made by either the data subject or an authorized agent. These rights include:
A. The Right to Know. You have the right to request that Ryze disclose the personal data that Ryze has collected about you;
B. The Right to Amend. You have the right to correct any information that Ryze stores about you;
C. The Right to Delete. You have the right to request that Ryze delete information that it maintains about you, subject to certain exceptions; and
D. The Right to Opt Out Of Your Personal Information Being Sold or Shared. You may opt-out of Ryze sharing or selling your information by clicking XXX.
In order to exercise any of the rights detailed above, please contact us at andree@ryzesuperfoods.com or alex@ryzesuperfoods.com. We will use your email as proof of verification unless otherwise prohibited. Exercising your rights under this section will not result in any discrimination by Ryze. We will treat you the same as any other user. If you disagree or dispute a decision that has been made on the scope or application of the rights described in this clause, you may appeal this decision by contacting andree@ryzesuperfoods.com or alex@ryzesuperfoods.com.
We will respond to your request to exercise any of the above rights in writing (including via email), or orally if requested, as soon as practicable and in any event not more than within one month after receipt of your request. In exceptional cases, we may extend this period by up to two months and we will tell you why. If you would like to exercise any of these rights, please contact us using the contact details provided above.
Retention Period. Ryze shall only store personal information for as long as it is required. This is determined by considering the purposes for which it was obtained in accordance with applicable laws. Our retention period is based on (1) the nature of our relationship with the data subject and (2) any legal obligations we are bound to fulfill.
Contact Us. If you have questions or comments about this Privacy Policy, please email us at: andree@ryzesuperfoods.com or alex@ryzesuperfoods.com. If you prefer, you may also contact us via at:
867 Boylston Street
5th Floor #1863
Boston, MA 02116