At 29 I Was A Couch Potato. At 30 I Look & Feel Better Than I Did In College. Here's My Secret…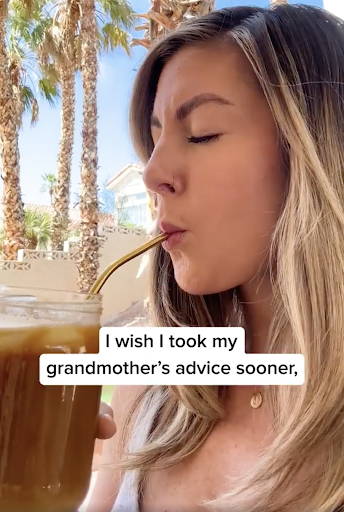 "For years on end, my two favorite pastimes were skipping gym day and cheating on my diet. I used to think it was because I was lazy and had zero discipline to keep up with my promises. Turns out I was completely wrong."
By the time I hit my late 20's I was so humiliated that I knew something had to change.
One day I was sitting on a park bench, gasping for air when my grandma walked up. "You gonna make it?" she said, half-joking.
"I don't know how you do it, Grandma! I literally feel like I just ran a marathon."
Only thing was, instead of running a marathon, my grandmother and I had been playing tag with my niece and nephew.
My grandmother had zero issues keeping up with them but I was a different story. I didn't even make it 20 minutes before I needed to take a break.
As I watched my grandma run around the playground, laughing the whole time, I was ashamed and embarrassed of myself.
At almost 80-years-old, she was healthier than me both mentally and physically. Later that night while sitting on the porch with my grandma I asked how she had the energy to stay in such great shape.
Truth is, I already knew what she was going to say...
All my life my grandma told me, "Take good care of your brain and your brain will take good care of you."
I used to roll my eyes every time she said that… but this time, I actually took a pause to really think about it.
Pressure from work and my personal life always left me feeling drained which made it easy to slack off on the couch and have a few comforting snacks. It sure beat hitting a sweat-pouring workout at the gym.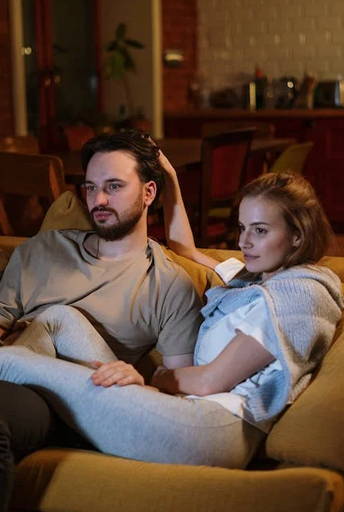 But sitting there talking to my grandma, I finally took her words of wisdom to heart and realized that If I could bulletproof my brain against stress, then strengthening my body and staying disciplined in all areas of my life would come naturally.
So I spent the next few weeks Googling different ways that I could strengthen and take better care of my brain.
One night something caught my eye. It was Mushroom Coffee. The post claimed that it would give me calm energy, sharper focus, improved gut health and a better attitude. "Yeah right" - I thought to myself, but after reading like 20 positive comments under that post, I got a little too excited and thought this could actually be legit.
With the sting of humiliation from the park still fresh in my mind, I decided to take a chance and order a bag. They offer a 30-day money back guarantee so I literally had nothing to lose.
It arrived at my doorstep in the next 3 days and… I can proudly say this was one of the best decisions I've made in a long time.
Within the first few weeks of drinking this mushroom coffee (which is delicious and super-creamy btw) I noticed it made such a huge difference in my energy that I got the wild urge to deep clean my fridge.
I had been putting off for the past 2 months!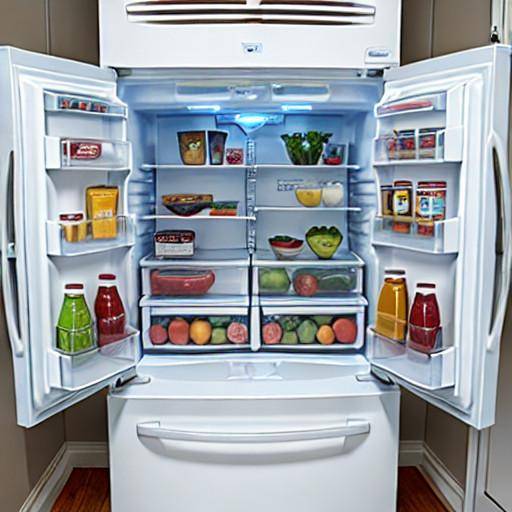 Even with a draining 9-5 job and getting all my chores done, I had enough left-over energy to start going to the gym again.
Now, obviously it didn't turn me into superwoman overnight. Fast forward 3 months, though, and I'm still hitting the gym consistently.
I have much more sustained energy throughout my days, I feel amazing and even a few of my coworkers told me that I look like I've lost some weight.
What really surprised me though is how much calmer I am and in control of my emotions even when that 9-5 work stress is at an all-time high.
I even brought my coworkers some RYZE and I haven't seen them drinking regular coffee ever since lol.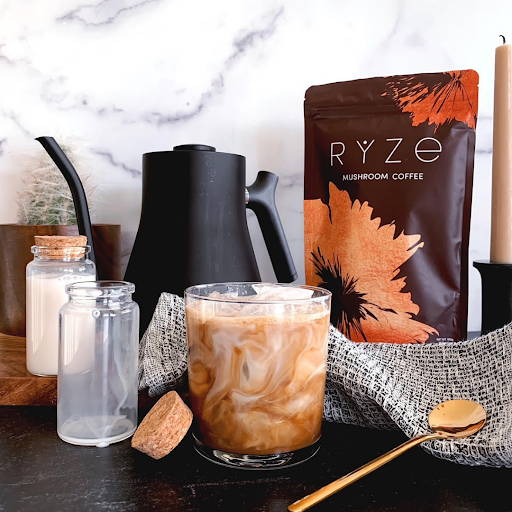 RYZE is a one-of-a-kind coffee that contains a blend of six functional mushrooms, MCT oil, and zero added sugar to help you focus, calm your mind and fuel your motivation.
On top of being 100% organic and non-GMO, RYZE also has a creamy delicious taste that's so good you'd think it was more of a treat than a healthy drink.
Each of the 6 different types of organic mushrooms are sustainably grown and sourced right here in the USA so you know you're getting the best quality.
As the #1 selling mushroom coffee in the world, RYZE has set the standard for quality. While many other mushroom products cut corners by using starch and grains as fillers, RYZE uses only full-spectrum mushrooms.
This means you're getting the best part of the mushrooms that are chock-full of benefits, without any of the junk.
It's one of the many reasons why RYZE has +45,000 reviews of people claiming they have more energy, more focus, a healthier gut and a better quality of life.
And RYZE is even easier to make than a cup of coffee - it literally takes me only 30 seconds to make which is perfect for when I'm on the go.
All you have to do is mix 1 scoop of RYZE with hot water, add in your favorite creamer or flavoring and enjoy each smooth, delicious, and creamy sip. Its neutral flavor is perfect by itself but it also blends well with whatever you normally put in your coffee.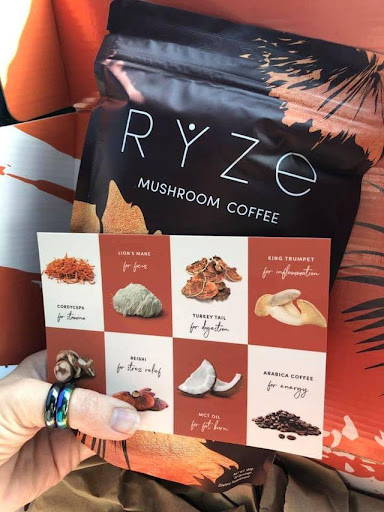 The secret behind why RYZE is so powerful is in the powerful blend of six adaptogenic mushrooms, hand-picked for their specific benefits. As the only mushroom coffee on the market to use this exact blend, you won't find what you're looking for anywhere else.
Lion's Mane helps gives you calm, laser-sharp focus, allowing you to become the most productive and motivated version of yourself.
Cordyceps increases your body's production of ATP so that you can enjoy an almost limitless supply of energy, better stamina, and a noticeable reduction in fatigue.
Reishi is nicknamed the "mushroom of immortality" and has been used in eastern medicine for thousands of years because it's a powerful ally that promotes deep sleep while also supporting your immune system.
Turkey Tail is a potent antimicrobial that helps protect your gut, promote healthy digestion and acts as a powerful defense against fatigue.
Shiitake is better known for its delicious taste as a gourmet mushroom but it also supports cardiovascular health and is another potent immunity booster.
King Trumpet is a rich source of antioxidants and niacin which helps strengthen memory, supports brain function and even has cardiovascular benefits.
Just imagine how incredible it will feel when stress just rolls right off your back and you're focused, calm and more productive than you've ever been. That's what it's like when you drink RYZE everyday.
What Are Other People Saying About RYZE?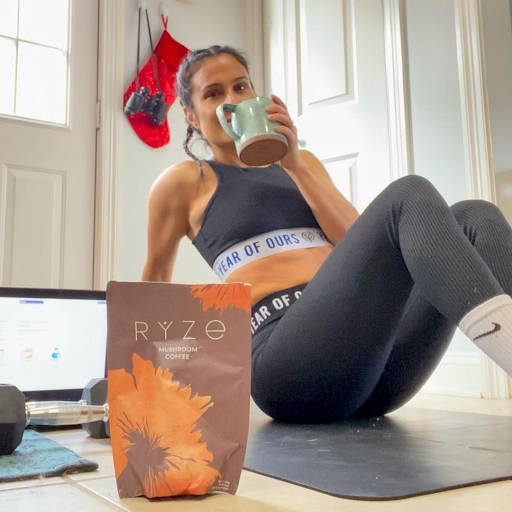 It's not just me who feels this way. Over 300,000 people drink RYZE every morning and they absolutely love it. Just look at some of the reviews these people are leaving.
"I am a totally different person now that I started taking Ryze. I actually take it before the gym as a pre workout and I absolutely love it. I have ADHD. And has helped a lot with focusing and my anxiety. I recommend it." - Vivian Celedon
"I actually love this coffee! I feel completely alert, focused and energetic after drinking it! I've definitely noticed I am more focused and work harder when I'm at the gym after drinking! I love it! Will continue to buy!" - Natalie Fox
"I've been drinking it for 6 days. I feel more focused & energized both mentally & physically. I've already recommended this product to all my clients at my gym in Kansas City." - TJ Bowers
"It's so hard to explain how I am feeling after drinking the Mushroom Coffee for just a few days. From not having a lot of motivation, to cleaning out my closet and having tons of energy. Ryze is the only thing that has changed in my life and so I will give it all of the credit!" - Keri Roedel
"Since I started drinking Ryze, I've had much more energy and motivation to get things done. I used to be a big coffee drinker, but had to slow down since it was hurting my stomach. This has been a wonderful replacement, and I love the taste!" - Camilla Fabbro
Conclusion: Does RYZE Live Up To The Hype?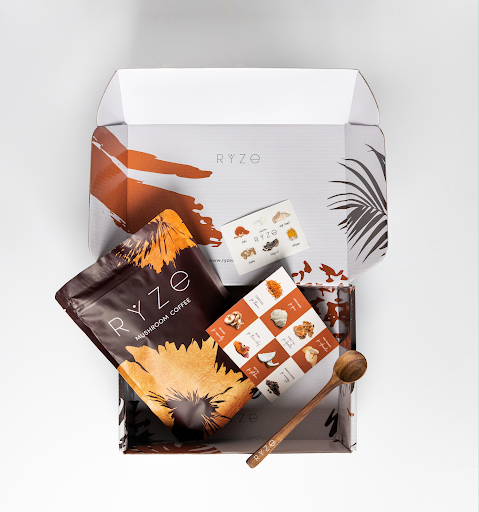 100% yes! As you know, your health is everything. Thanks to RYZE I now have the energy and motivation I need in order to take my health more seriously. Not only am I hitting the gym almost every day now but I'm alsoleaner, more relaxed and happier than I've ever been before.
My only complaint about RYZE is I wish Instagram had shown it to me sooner.
Whether you're feeling unmotivated, having a difficult time focusing, or want to make your health a bigger priority than it already is, then you gotta believe me. Give RYZE a try because it could
be the boost in energy you need to take your mental and physical health to the next level. 10 out of10, would recommend!
Get 15% off + free handmade acacia spoon limited time only!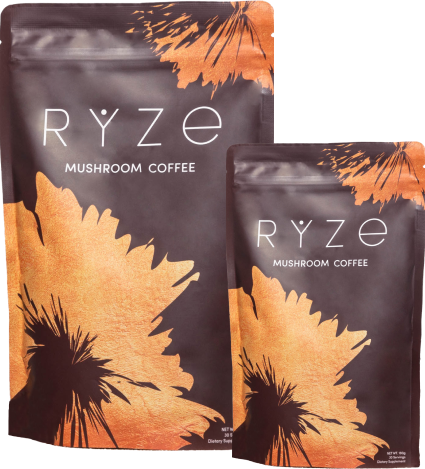 Lovely Earthy & Creamy Taste

Mushrooms Grown In California
Try it today with a 30-Day Money Back Guarantee!
Sell-Out Risk: High | FREE shipping